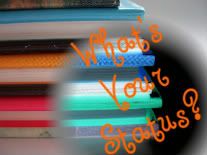 Thanks to the lovely people at PYR!
Arc that I picked up at BEA 2011
E-ARC
Currently Reading:
She was kind enough to get a copy from a signing and mail it across country for me!
Book bloggers are the most amazing friends!
Stop by her blog, it is beautiful!
The Mad Scientist wants to know!
Or Recommend me a book!


.................
Morbid Romantica 2012 is in the works!