Die For Me:
Published Date:

May 10th 2011

Tags:

Young Adult, Fantasy Fiction, Paranormal Romance, Supernatural

Why the Mad Scientist Read this Book:

The Mad Scientist won this ARC at the Dark Days of Supernatural Tour in Naperville, IL at the

Anderson's Bookshop. Sent to Jen @

In The Closet with A Bibliophile.
First Line:
The first time I had seen the statue in the fountain, I had no idea what Vincent was.
Oh, where do I begin with this one?
Die For Me
opens the story with a young girl so racked with grief over the loss of her parent that you could not help but to feel empathy for the poor dear.
*tear*
Her sister moves them both to Paris to their grandparents to change the scenery and hopefully the Parisian air will them heal.
I love how
Plum
has a mysterious dark stranger swoop into Kate's life. She may have noticed him but I was delighted at the fact that their first few encounters were less then wonderful, just plain awkward.
*sigh*
It was like good ol' courting. Beyond that she believes he is not very virtuous assuming that this handsome soul is a criminal of all things. Un-explainable events unfold around the mystery boy and soon she finds out that Vincent is hardly normal, much less even alive.
We slowly learn about Vincent's supernatural state and that of his "family". Revenants are not exactly Zombies but they are walking dead.
*oh my*
They pass away saving others and are now chosen to reanimate so they can continue saving people, often by loosing their lives once again. How interesting does this concept sound?! I was profoundly intrigued.
The
Mad Scientist
loves a good twist and
Amy Plum
does this by adding in the Numa. The official bad boys of the Undead! Like the Revenants the Numa continue living as they did as they died, murdering and pillaging. The Numa are at war with Vincent and his kindred, causalities are to be had.
Here is how I picture Vincent: As Logan Lerman...
The sweet romance between Kate and Vincent was lovely, there was no part where I felt it was forced. There was a connection between the two but I need to reinforce the fact that she does not jump into his arms immediately. Kate knows that her heart is not healed from her parents death. Due to this, she is a guarded soul who ends up leaving Vincent. The best part of Vincent that will make you swoon over him is when he decides to be a valiant and fight for their relationship. A true
old soul.
**Side Note: How adorable is he?!?! I could spend some time reading or doing other things on that balcony. *wink wink* **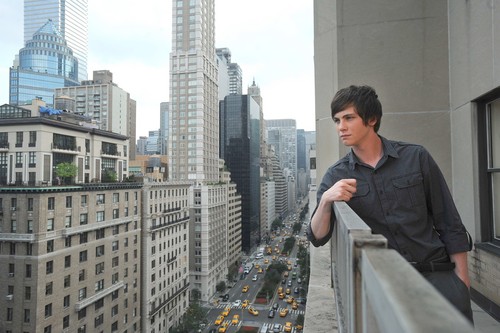 Charlotte, a revenant, is a strong female who did some serious damage kicking Numa butt, she was also the lone female in the house until Kate came along. Kate also bonded with most of the Vincent's other kindred as well. However, there is one who did not approve of having a human of all things among them. It is chilling and spins the book in different directions.
Overall, The
Mad Scientist
found this book to be a light reading with a few editing problems (it is an ARC after all). It is not a profound piece of YA literature but it is a very entertaining story that does not follow down the same path as most others.
I do believe that this book has laid out the groundwork and background for the idea of Revenants and the Numa. The next in the series has so much potential to be amazing. The
Mad Scientist
is already waiting for it!!
A different spin on Zombies and a relationship that does not happen instantly. Plus, a few bad boys to boot!
Sort of Zombies count for Helluva Halloween!!
Challenges:
111 in '11

Morbid Romantica 2011 - Zombies or Ghosts