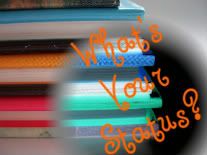 Moon Called #1 of Mercy Thompson Series
You know what that means. I have officially started another series.
Where is book two? Searches!
I have that one ebook style ;)
I heart her very much & you will too!
It's been a slow week since recovery & meds didn't make for the best reading time.
If you missed the post, Mad Scientist had gallbladder surgery last Sunday :(
If you are curious here is my shortest review of the series,
"Jane True Rocks The Paranormal Fiction Book World!"
Pick it up, you wont be disappointed!
Death Cloud is a book about Young Sherlock Holmes & his first mystery
I found it to be a bit too dry for me :(
Between Shades of Gray was mentioned on my GoodReads group
as a great book for not only traveling to another country but as a historical fiction.
This novel about
Stalin's
holocaust is amazing!
5 blasts, 5 stars, 5 hearts!
Pick this one up, you will love it.
Currently Reading:
Eat Pray Love
It is taking me a long time to chew through this novel.
However, annoying I might find her constant whine
I do enjoy the traveling.
Mad Scientist is now in Pray, Book Two.
The Cool Woman is a book I picked up at GoodWill.
Go figure. I may say I dislike taking my grandma there
But I always come away with a new book or two!
The Mad Scientist wants to know!