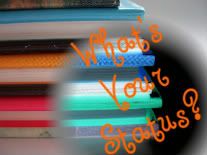 is a brand new MeMe started by my wonderful Blogger Pal
Basically it is a weekly what did I find myself buying, finished reading, what The Mad Scientist is currently reading, and probably what I think will be read next.
This includes books, audio, and ebook form for me.
Mad Scientist Finished Reading:
One of the best most huggable books!
Maximum Ride: Saving the World and other Extreme Sports
Mad Scientist Currently Reading:
For Morbid Romantica - Nephilim Theme
*Thanks to Simon & Schuster Galley Grab*
Mad Scientist's Inbox of eBook Wonders:
*Thanks to the author, Regina Riley*
But some of it could be yours!!