The Mad Scientist created the right potions. Finally! I put a spell on a blogger so I could receive a most delightful surprise. *grin* My first award! However, my magical potion reached out farther then I even imagined and grabbed the attention of another blogger. *rubs hands together evilly* Wait a minute, I've invoked the powers of the Warlocks instilling a third bloggers love of all things Steampunkery and Snarky! Working all night in a laboratory can be so well worth it! *Mwah ha ha* Let me see here.... Oh, yes. My protoplasmic gear and cogged laptop has revealed to me that this ever so lovely and unique blog has bedazzled another blogger :) So, here I am a pure and innocent lady *presses wrinkle out of silk skirt* proud to report that I have received the Versatile Blogger award from Kristina @
The Frazzled Book Nommer
& Ashlie @
Page Turners Gone Wild
& Pris @
The Benterud Bookshelf
, as well as Kate @
Literary Explorations
! I also received the One Lovely Blog Award from Kimberly @
In the Outhouse Reviews
.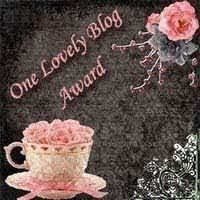 Thanks girls for the great honor. It truly makes me blush! You have no idea how truly honored I am for this great gathering of beautiful blogs to bestow upon me such an abundance of awards!
Now that I have introduced my profound gratitude and the lovely Mistresses who passed the award along I am happy present the rules. Just to ensure that no one is tempted so entertain the though of Lil ol' me being a deviant. ;)
1. Thank and link back to the person that gave this award.
2. Write 7 things about yourself
3. Pass the award along to 15 bloggers who you have recently discovered and who you think are fantastic
4. Contact the bloggers you've picked to let them know about the award.
Seven wonderfully outstanding things about me:
1.) I take cream & sugar in my tea.
2.) I am a person on the liberal side. You will tend to see my gloved hands wrapped around a bound book containing a chiseled hunk. *shrugs* What can I say? My heart needs a workout every now and then.
3.) Science is a hobby. The art of creating such wonderful things are usually left to the brutish men who think they have a brain. However, we ladies know that is not always the case.
4.) I have a small modest parasol collection. Ok. That is a malicious lie. I have more then I know what to do with. It consists of every color under the sun and every material know to me. Ah, *pets parasol lovingly* how I love your protective beauty!
5.) I always have a ray gun tucked away in the rim of my Delicious thigh high boots. You just never know when a women of such stature needs to show others what is is capable of being the art of charm and seduction.
6.) I can sometimes be found in the presents of some select paranormal friends. It is tempting not to let a few ruffle my skirts ;)
7.) Personally, I have yet to take flight aboard a dirigible. But I so desire to do so.
Now for the my last obligation. Picking out a few select bloggers who the Mad Scientist would like to pass this mystical power of blog enchantment on too.