Thank you so much to
also to Melissa @ Books and Things for the Life Is Good Award. The Mad Scientist thanks you with and abundance of blushing and a happy smile!

1. Thank and link back to the person that gave this award.
2. Answer the 10 survey questions.
3. Pass the award along to 15 bloggers who you have recently discovered and who you think are fantastic.
4. Contact the bloggers you've picked to let them know about the award.

Ok, so onto the questions:

1. If you blog anonymously are you happy doing it that way; if you are not anonymous do you wish you had started out anonymously so you could be anonymous now?
Anonymously
... The Mad Scientist is a person who works in a laboratory, loves to read, goes to school, and has three boys. I provide some insights into my life but I think The Mad Scientist peaks a certain amount of curiosity in my followers. The Mad Scientist is Mad perhaps a tad crazy and driven near the edge by various ex's. Right now I love being The Mad Scientist and I think it is wise to leave a out my personal name for now but I will continue to share bits of my life here and there.
2. Describe one incident that shows your inner stubborn side:

I am a single mother of three growing boys, I am working on a four different degrees right now, and I am the first person to say I am never ever ever ever getting married. I can do things by myself and well... I do. Guess what! It gets done right and without the 100 times I have to ask the other half to do it.
3. What do you see when you really look at yourself in the mirror?
I see a person who loves many different genres. I don't know who I am because I am a huge mix of lots of things. I see a person who is surviving, loves to read, and loves to travel.
4. What is your favourite summer cold drink?

Flavored Iced Tea or Homemade Lemonade.
5. When you take time for yourself, what do you do?
I read, travel, scrapbook, and watch Grey's Anatomy. McDreamy and McSteamy fixes are so wonderful!
6. Is there something you still want to accomplish in your life? What is it?
I'm working on degrees now. But I think a good something would be to backpack through Europe for a whole year with no money worries. Then work my way over to Asia afterwards for another year of Travel, food, and life learning.
7. When you attended school, were you the class clown, the class overachiever, the shy person, or always ditching?
I was the girl who was amoung the guys. I was the girl who hated girl company because they complained or back-stabbed. I played basketball, toilet papered the HS, and never painted my nails. They guys treated me as one of them and the girls hated me because they were all wrapped around my finger in a different way then they though. Senior year I ran away form the US and spend a year in Thailand.
*I hated school, really, but now I have a near 4.0 GPA in college.*
8. If you close your eyes and want to visualize a very poignant moment of your life what would you see?
Thailand.... all of it. Where I lived, the food, my friend, and the sadness I feel because I am not there.
9. Is it easy for you to share your true self in your blog or are you more comfortable writing posts about other people or events?
This blog isn't for me. It is for book reviews but you will see me tucked all over the place. I don't mind sharing myself at all.
10. If you had the choice to sit down and read or talk on the phone, which would you do and why?
In HS it would be talk on the phone but right now it is read. I have a iPhone but everyone who has my number will tell you I never answer. I have become in phone hating person.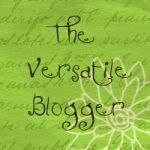 BLHmistress at
Book Lover's Hideaway
has awarded me with The Versatile Blogger Award. Thank you so much I wasn't expecting this.
Here are the rules:
1. Share 7 things about yourself
2. Pass The Award to 15 bloggers recently discovered.
3. Notify the blogger recipients
4. Link The blogger who gave the award.
7 things about myself:
1. I am a single mother of three boys, Hayden 9, Talon 8, Dillion 6.
2. I am a single mother of three boy cats, Diesel, Jasper, & Sunny. Yup out number for life
3. One day I want to be the hottest female historian on the History channel, You all better watch out for me :)
4 I dress in more of a emo fashion. My hair is black, blonde and purple at the moment.
5. I am an enrolled member of a Native American Tribe.
6. I own nearly a 1000 books and probably have only read about 10% of them. Yes, I have a huge problem.
7. Dream about living anywhere but the US. I absolutely love anything to do with History, too bad I don't read more of it.
15 Blogger's I recently discovered:
I hope you all have a wonderful weekend!!