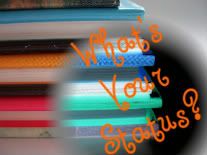 What's Your Status?
is a brand new MeMe started by my wonderful Blogger Pal
Basically it is a weekly what did I find myself buying, finished reading, what The Mad Scientist is currently reading, and probably what I think will be read next.
This includes books, audio, and ebook form.
Finished Reading:
The Ghosthunter by Lori Brighton
*review coming soon*
Currently Reading:
Delirium by Lauren Oliver
~~ 1 ARC Book Tours & NetGalley ~~
Angelfire by Courtney Allison Moulton
~~ NetGalley ~~
Bonded by Blood by Laurie London
~~ NetGalley ~~
Others From NetGalley Just Waiting to be Read:
Adios, Nirvana by Conrad Wesselhoett
Here Lies Bridget by Paige Harbison
Lost Voices by Sara Porter
Stone Kissed by Keri Stevens
The Iron Queen by Julie Kagawa
The Lying Game by Sara Shepard
The Vespertine by Saundra Mitchell
~~~~~~~~~~~~~~~~~~~~~~~~
This is a full load & it just makes this Mad Scientist just giddy over the thought of how much fun I'll have this week and next!
Tune in this week for some Mad reviews of greatness!
Pleasant week to everyone,
Mad Scientist