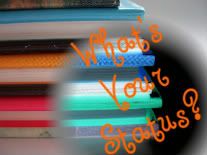 What's Your Status?
is a brand new MeMe started by my wonderful Blogger Pal
Basically it is a weekly what did I find myself buying, finished reading, what The Mad Scientist is currently reading, and probably what I think will be read next.
This includes books, audio, and ebook form for me.
Mad Scientist Finished Reading:
One ARC Tours and NetGalley
Delirium by Lauren Oliver
Mad Scientist is Currently Reading:
E-Book from NetGalley
From Author to Mad Scientist:
Banana Kisses by Bonnie Rozanski
Signed copy
Adams's Apple by Mooney Trompeur
(AKA my humanities professor)
Mad Scientist Traded:
Catch Me if You Can by Frank Abagnale (Audio)
For a Comic Book *grin*
~~~~~~~~~~~~~~~~~~~~~~~~~~~~~~~~~~~~~~~~~~~~~~~~~~~~~~~~
What is going on here?
I am trying to get a fun challenge off the ground 2011.
Reading Bucket List Challenge
January 1st 2011 - December 31st 2011
Easy Sign up with just a comment.
Here!!
I hope you find it worthy.